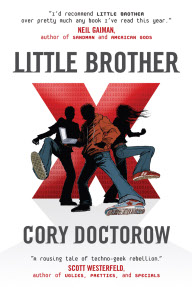 I have received a number of emails from blog readers who truly enjoyed different chapters of Cory Doctorow's self-published collection of short stories called With A Little Help.
Today I decided to follow up with Little Brother - another one of Doctorow's previous publications.
As always, Cory has provided a link to a free Creative Commons version of the text of Little Brother. You can click here to download it in a variety of formats from ePub to Kindle, Pdf, plain text and many others.
Alternatively, you can purchase the print version from Amazon here

or check out a sample of the DRM-free audio book and buy it below.
Related articles