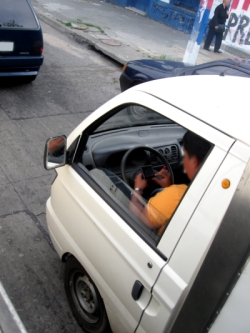 There are few large organizations that really comprehend the effects of climate change and former President Clinton's Global Initiative is amongst this small handful. With the City of San Francisco, NAVTEQ and ESRI, the CGI plans to put into practice a pilot program that lessens their impact on carbon emissions.
Using ESRI's advanced mapping software, San Francisco can optimize its fleet operations and reduce green house gas emissions into the atmosphere. Congruently, NAVTEQ's highly essential and thorough map data is built directly into the ESRI map-reading solution.
Altogether, this project is a result of 3 large organizations aiming to make the planet a better place to live. Along with close counselor Doug Band, the William J. Clinton Foundation started the Clinton Global Initiative to "generate and advance solutions to the core issues motivating climate change," including reducing carbon emissions. Doug Band is actually accredited with the idea for the CGI, and former President Clinton so boldly states, "Doug had the idea to do this."
At their 2009 annual meeting (CGI Annual Meeting), ESRI President Jack Dangermond stated their pledge to the CGI effort and described in detail what they were planning in San Francisco. Furthermore, this commitment also includes a grant of ESRI's software ArcLogistics to local governments in large city areas. San Francisco is the pilot participant in this national project.
San Francisco's Mayor Gavin Newsom said "It [route optimization software] will create more efficient routes for the 'city's fleet vehicles, thereby helping decrease municipal fuel costs and greenhouse gas emissions. We are pleased to be partnering with ESRI on this innovative program." [1]
Before this project was put into place, San Francisco's fleet didn't use any sort of route calculation technology product. Using ArcLogistics and NAVTEQ map technologies, fleet managers can now organize workloads into faster routes based on real street drive time and distance. The function will further reduce fleet carbon emissions by reducing time between stop cycles.
Ultimately, the pilot program keeps track of past and present mileage, weighing in the effectiveness of the route optimization software. Both NAVTEQ and ESRI have made a 10-year obligation to provide San Francisco with their Desktop software, NAVTEQ map data, and ArcLogistics Navigator software.
Users of this ArcLogistics software typically say that they have effectively reduced fleet-related costs by 15–20%. This is directly attributed to:
Route-solving ability to include time windows
Vehicle capacity
Nature of the street network
It also permits dispatchers to give drivers barrier information, construction updates, or real time traffic data, further allowing them to meet appointments. NAVTEQ map data also includes features that are common on consumer GPS systems such as the latest street geometry with navigational attributes that aid driving by providing turn-by-turn, route planning, route optimization, and map display. All in all, such joint ventures of advanced route optimization mapping software and local or global leaders can be of great help in creating environmental sustainability not only for the city of San Francisco but for many other metropolitan centers.
About the Author:
Jack Lundee is an avid follower of all things Green and Progressive and is the writer and editor of Everything Left blog. You can follow Jack on Twitter @J_Lundee where he posts on topics such as green and renewable energy, deforestation, green space and others.
Related articles